School Science Lab Furniture & Design.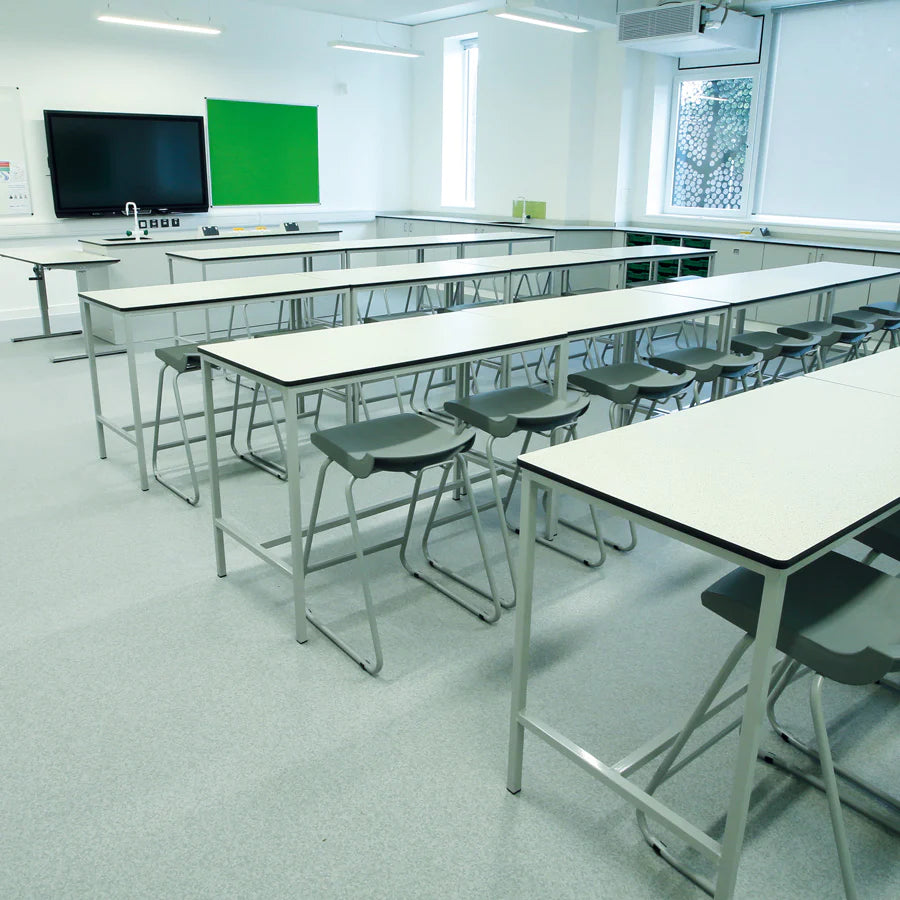 School Science Lab Furniture
School Science Labs are perhaps the most complex of learning environments. The distribution of services is not dissimilar to the average home. Gas supplies, electricity, water and drainage must all be integrated within the lab furniture and presented to each pupil. Due consideration must be given to ventilation, liquid spill risk, chemical resistance of surfaces along with the more familiar demands of the Science Classroom. From fume cupboards to gas taps, our state of the art School Science Labs address the stringent technical demands whilst facilitating individual teaching styles.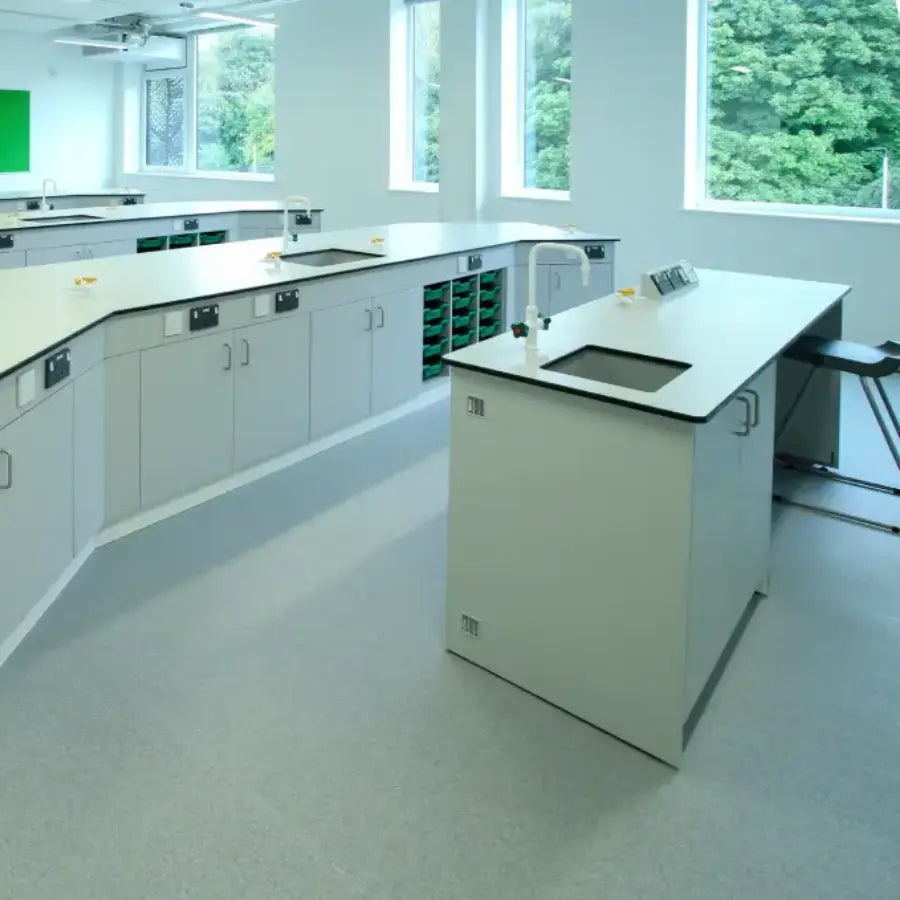 Science Lab Storage Solutions
School science labs require storage for a variety of different apparatus and chemicals. Easy access to equipment saves valuable lesson time and an uncluttered learning environment allows students to concentrate safely on their studies and limits distractions. From our experience with schools we suggest including the following storage in your Science Labs: A designated area for any bags and coats to prevent tripping hazards. Dedicated chemical storage cupboards that are clearly labelled and positioned in the prep room away from other equipment. A combination of fixed and mobile tray storage offering customisable storage options with varying tray sizes and colour options.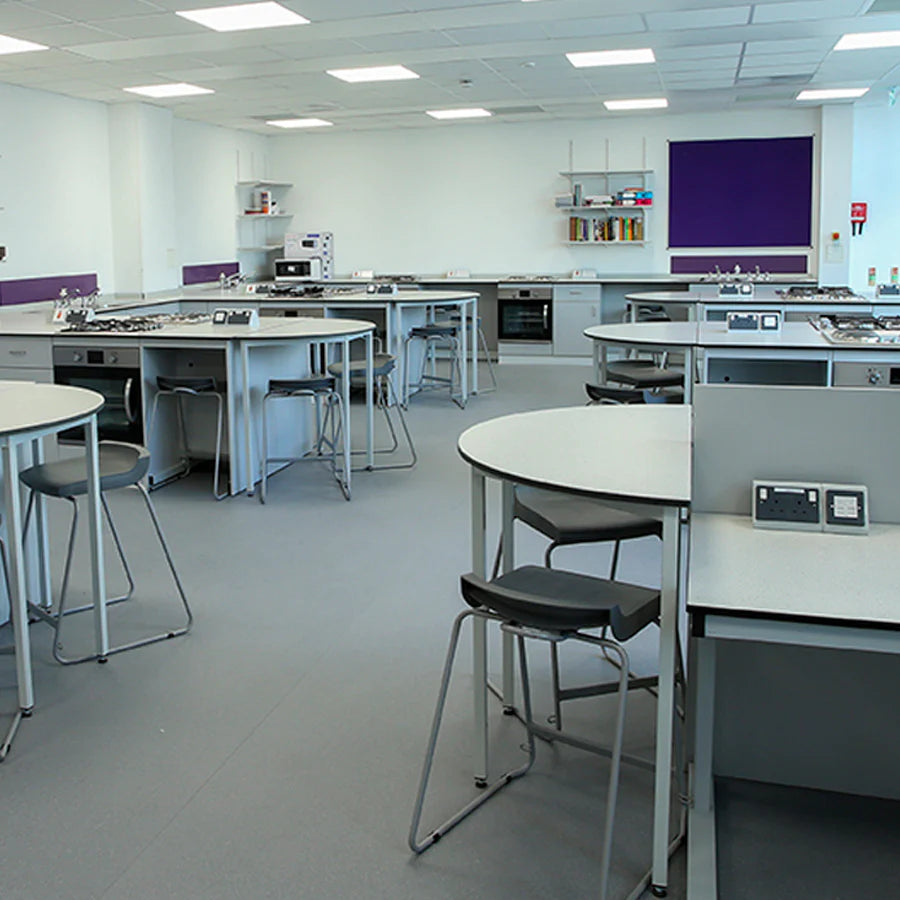 Designing School Science Labs
We only use the best and most suitable materials when designing Science Lab Classrooms. Our design plan reflects the way the school wants to teach its science curriculum while also meeting the objectives and pedagogical vision of the institution. The design of most science classrooms, such as island, peninsula, wing benching, pods and pedestals, might become formulaic, but we have spent many years successfully satisfying the aforementioned design standards. Our experienced design team listen carefully to your brief to create a bespoke solution which will create a modern School Science lab that inspires and stimulates both students and teachers which makes the most of your budget.
Design is fundamental to our approach. Good design can transform everyday lives, improve health and work performance and save money.
Our Furniture Consultants speak to schools every day all over the country, so understand the unique challenges they face when it comes to space, budget and logistics.
Contact us today to discuss your requirements
01869 320 320
School Science Lab Furniture
What schools say about working with us
We were absolutely thrilled with the conversion of our ICT Suite into a multi-functional learning space.  The process was seamless and Morleys were fantastic when it came to planning and advice and definitely great value for money.  The installation went very smoothly and any issues were dealt with extremely quickly.  The product is good quality and looks great too!  Needless to say, the staff and children have thoroughly enjoyed the new space and it has made a room that was hardly ever used into a very desirable and highly sought after space for everyone.
Northgate Primary School
Morleys provided us with a personal, professional service. From choosing chairs and tables for classrooms through to providing a design service for more sophisticated schemes, Morleys were informative and flexible.

Crofton School are really pleased with the results, maximising the space available.
Crofton School
From the beginning, the design process was different with Morleys. They took the time to come into school, look at the space for our library and talk to us about what we were aiming to achieve.

We had a group of children involved in the design process and Morleys met with them and listened to their ideas. The whole school was involved in selecting the quote to go on our library design, and the children see the library very much as their library. We are all delighted with the finished result – it is the loveliest room in our school!
Barrington CoE Primary School